What we expect and what we'd like to see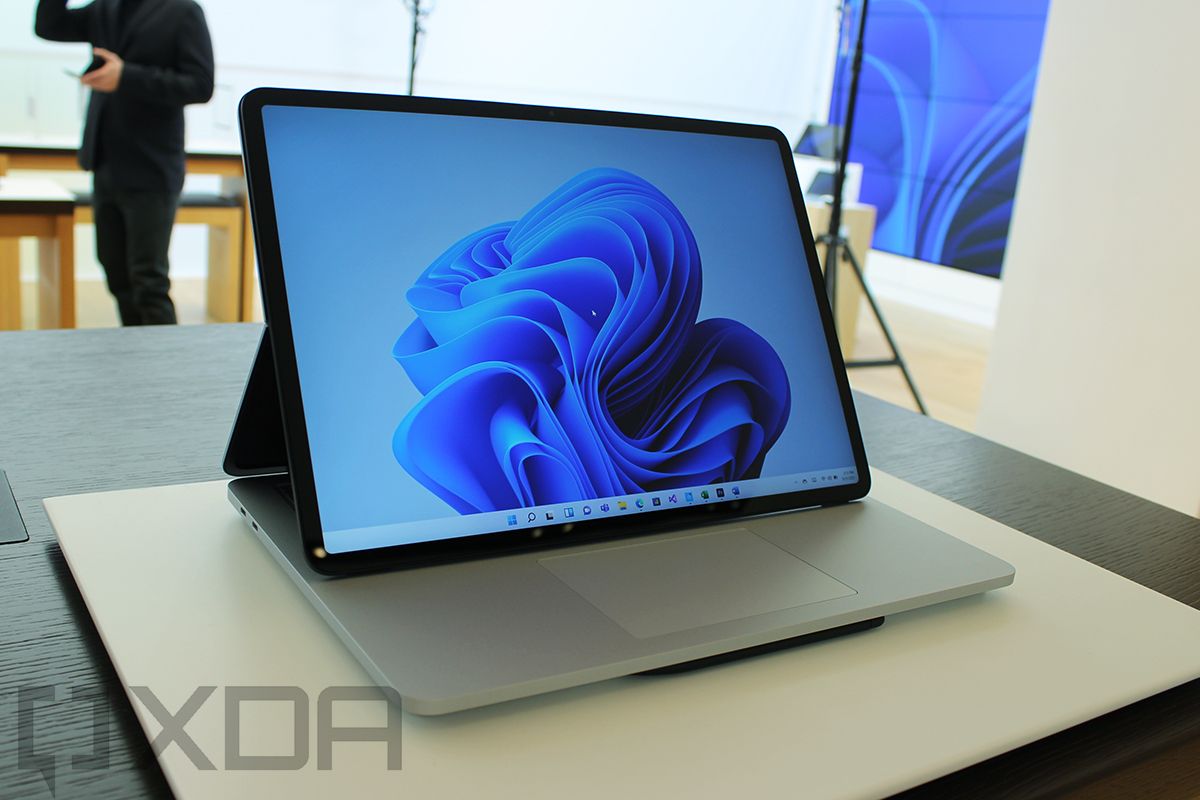 Even though it's been over a year since its release, the Surface Laptop Studio is still one of the coolest laptops Microsoft has ever made. Folio-style laptops weren't new when it launched, with the Acer ConceptD 7 Ezel being another great example, but the Surface Laptop Studio definitely made them a bit more mainstream, and it's such an interesting form factor. It makes it easier than ever to go from a laptop to a tablet, and it doesn't sacrifice power to do it, so it's got plenty of performance. With that being said, the Surface Laptop Studio is starting to get a little log in the tooth, particularly regarding its internal specs. As such, we want to consider what's next for this product and what might be in a Surface Laptop Studio 2.
The Surface Laptop Studio is great, but it does have 11th-generation Intel H35-series processors with just four cores and eight threads, so it definitely falls behind what we're getting these days with 13th-generation Intel processors starting to hit the market. It also has Nvidia GeForce RTX 3050 Ti graphics, up to 32GB of RAM, and 2TB of SSD storage. The most unique thing about it is its display, which has a second hinge allowing you to pull the screen closer to you or to fold it down over the keyboard and use it as a tablet. The concept is great, but the design itself could use some improvements.
When is the Surface Laptop Studio 2's release date?
While it's hard to guess when a Surface Laptop Studio 2 might launch due to the lack of history with this specific lineup, a recent report suggests it will be coming soon. Specifically, the Surface laptop Studio 2 is expected to launch sometime this spring, which is one of the two common timeframes for Microsoft to launch new hardware. Another option would be later in the fall, but spring seems to be the most likely candidate right now.
That timing would make a lot of sense considering Nvidia and Intel have both launched new hardware in recent months, so it's a great time to introduce a new laptop with this hardware that's on the bleeding edge of technology. Microsoft isn't known for being the fastest to use new processors, but since performance is a big focus for this device, it makes sense.
What new features will the Surface Laptop Studio 2 have?
The leaks we've seen don't just give us a potential release date for the Surface Laptop Studio 2, but they also tell us some of the specs we can expect. Unfortunately, not many design changes seem to be in the cards, which is something we would like to see.
More performance
The Surface Laptop Studio looks set for a major performance upgrade, if the reports are to be believed. We're expecting to see up to a 13th-generation Intel Core i7-13800H, which is a very big leap over the previous top-tier CPU option, the Core i7-11370H. The Intel Core i7-13800H has a whopping 14 cores and 20 threads with boost speeds up to 5.2GHz, as opposed to the four cores and eight threads of the Core i7-11370H, which only boosted up to 4.8GHz. The newer processor also has a higher 45W TDP compared to the 35W of the previous model.
In a leaked benchmark, we saw a purported Surface Laptop Studio 2 obtain a Geekbench 6 score of 2,564 for single-core, and 12,463 for multi-core. Comparatively, the old model maxed out at around 1,973 and 6,788, respectively.
On top of that, the Surface Laptop Studio 2 is said to feature up to an Nvidia GeForce RTX 4060 GPU, which would also be a massive upgrade from the RTX 3050 Ti that was in the original model. It's worth noting that the RTX 3050 Ti isn't a particularly powerful GPU to begin with, so this will make a very big difference for GPU workloads. Rounding things out, it looks like you'll be able to go up to 64GB of RAM, making this a powerful machine through and through.
What do we want to see in a Surface Laptop Studio 2?
While we've only heard about changes to the specs for this second iteration of the Surface Laptop Studio, there are some things we'd love to see change in a new model. These things may not happen in the Surface Laptop Studio 2, but they would make it a much better device.
A more flexible design
The Surface Laptop Studio's form factor takes clear inspiration from the Acer ConceptD 7 Ezel, allowing you to pull the display towards you or fold it over the keyboard base for drawing. However, that's all the Surface Laptop Studio does. Acer's laptop is designed to allow you to have the display in many different positions more easily. You can make it so that the display "floats" above the keyboard, for example, or spin it completely backward if you want to show something off across a table.
The Surface Laptop Studio design locks you into three different positions, and while you can move it freely, it doesn't really hold any other position very well. One could argue that's an intentional part of Microsoft's design, but it could definitely change in the future. When the first Surface RT and Surface Pro iterations were released, the kickstand only supported a few positions, but it eventually became a free-moving kickstand. We'd like to see something similar with the Surface Laptop Studio.
A refined design
The Surface Laptop Studio is cleverly designed to house the Surface Slim Pen 2 underneath the keyboard base. To accommodate it, Microsoft designed the laptop to have this cutout all around the base, which can look a bit odd. The Surface Slim Pen can only be stored in one position alongside this cutout, so the rest of it is only there for aesthetic consistency, but it would probably be better without it.
The cutout should be designed to fit the Surface Slim Pen more snuggly. And while we're at it, the pen should probably be included with such an expensive laptop. That way, the pen garage isn't empty out of the box, and it helps the design feel more balanced.
More ports
Seeing Microsoft adopt Thunderbolt for the first time with the Surface Laptop Studio was huge news, and Microsoft seems committed to keeping it around with the recent Surface launches. But as capable as these ports are, it's a shame to see this powerful laptop including almost nothing else besides Thunderbolt. A more traditional display output like HDMI would be great to see, as would USB Type-A and an SD card reader. Surface devices typically haven't had a ton of ports, but if Apple can learn its lesson for the MacBook Pro, we hope Microsoft can do the same for a Surface Laptop Studio 2.
What will be the price of the Surface Laptop Studio 2?
While it's definitely early to guess the exact pricing for a device that's still a way out, there's something we do know. Microsoft hasn't typically changed the base price of its devices by a whole lot each generation. There have been fluctuations, but usually, the big changes only happen when there are big changes to the specs.
With that being said, we're looking at some big changes for the specs with this iteration if the latest reports are to be believed. While the base price may stay roughly the same ($1,599) depending on the configurations available, the top-tier configurations may end up being a lot more expensive. We'll have to wait for official information from Microsoft to know for sure.
That's all we know about a potential Surface Laptop Studio 2 for now, but it's still exciting. The spec bump that's been reported is one of the big things this device needed, and it could make it a truly great laptop for creators. We'll keep adding more information to this page as it comes. If you're interested in other form factors, check out the best Surface PCs you can buy today — Microsoft makes some great devices for different use cases.