Intel's 13th-gen Core laptop CPUs hit blisteringly fast speeds
Intel launched its entire 13th-gen Core ("Raptor Lake") mobile processor lineup Tuesday morning at CES 2023 for laptop and gaming PCs, spearheaded by the 24-core Raptor Lake-HX platform and the Core i9-13950HX, a chip that can run up to a whopping 5.6GHz.
Intel unveiled four 13th-gen mobile processor families: the 55-watt HX series for creative professionals, the 45W H-series for high-performance gaming laptops, and the 28W P-series and 15W U-series processors for performance and thin-and-light laptops, respectively. What's new? What Intel calls "endurance gaming" and a new Movidius VPU "AI card" for laptops, which sounds conceptually like the standalone sound accelerators of a couple decades ago.
Intel said it expects more than 60 HX-based gaming laptops, with over 250 different laptop models built around the remaining mobile processors. These and other 13th-gen Raptor Lake laptops will ship "later" during the first quarter 2023, executives said.
Intel also fleshed out its Raptor Lake desktop lineup, after originally announcing the Core i9-13900K processors in late September. (We've discussed these in a separate article.) Intel also made good on its promise to eliminate the Pentium and Celeron brands by announcing the Intel Core i3 N-series processors for $500 PCs. All desktop and mobile Raptor Lake chips use the "Raptor Cove" performance core design on the Intel 7 process, optimized for speed and with larger caches for improved performance and controlled by an enhanced Thread Director co-designed by Intel and Microsoft.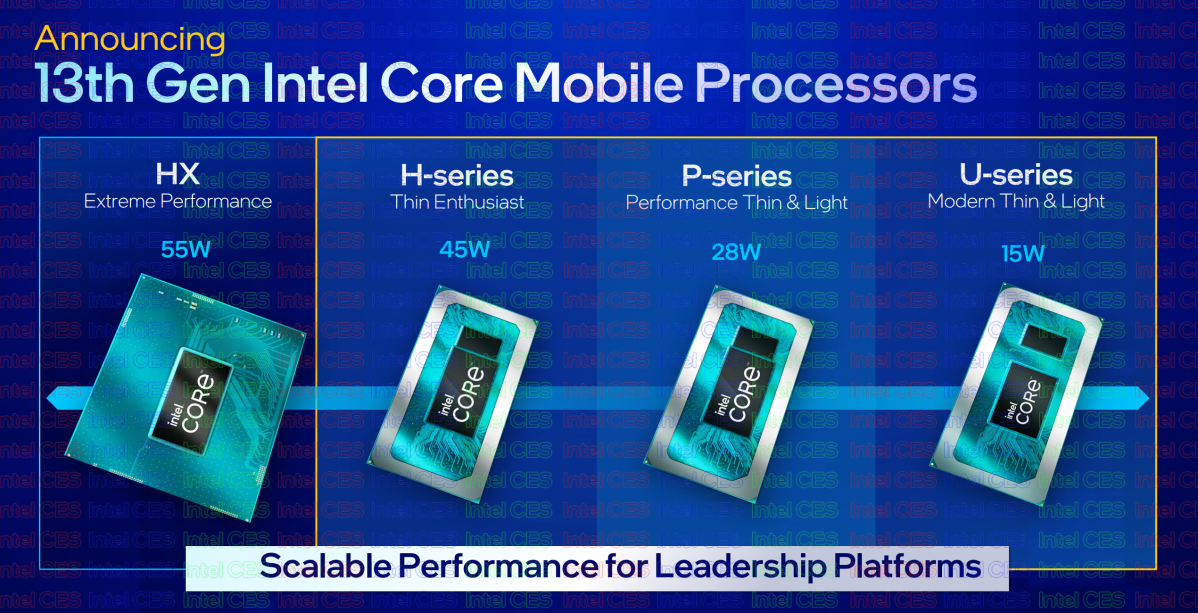 Intel
Intel is launching its new processors in what is an extremely tumultuous market. Mercury Research reported that for every quarter in 2022, the mobile CPU market has recorded unit sales at least 30 percent less than 2021 as PC makers cut back on inventory. Intel, though, slurped up an additional 9.1 percentage points in the market, giving it an 84 percent share of the mobile PC processor market. In other words, if you do invest in a new laptop in 2023, you stand a greater chance than ever of finding one of these chips inside it.
Intel's Raptor Lake-HX series, for games and game creators
To be fair, you probably won't end up buying a Raptor Lake-HX notebook unless you're a creative professional who demands the very best. Intel launched the 12th-gen Alder Lake-HX chip last May, and Intel said that that 16-core (eight performance, eight efficiency cores) platform was designed for "professionals in the field who need low latency access to data." The new 13th-gen Raptor Lake-HX platform increases the core count to 24 (up to eight performance cores and 16 efficiency cores). But the HX series still only includes 32 graphics execution units (EUs).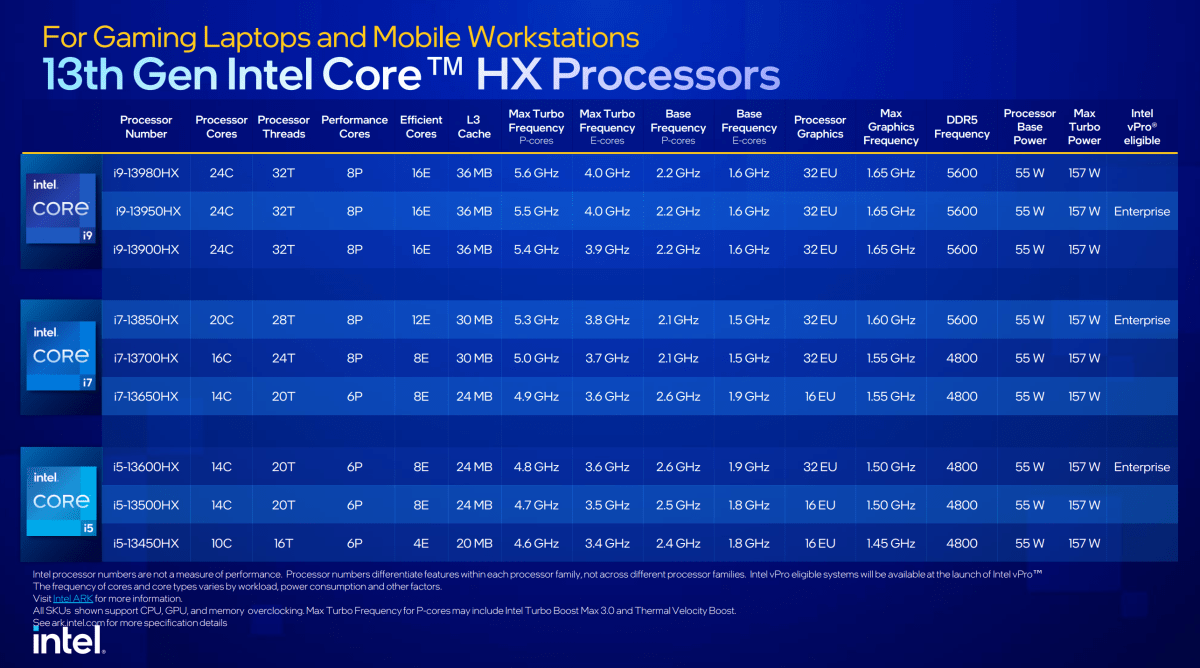 Intel
There's a subtle but interesting difference between the 12th- and 13th-gen chips where gaming is concerned. Last spring, Daniel Rogers, senior director of mobile product marketing within Intel's Client Computing Division, described the older Core i9-12900HK as the "world's best gaming processor." Today, Intel is claiming that the more expensive Core i9-13950HX is the "best gaming laptop platform."
Intel
What gives? Colin Helms, the market manager for the enthusiast mobile group, said that the Core i9-12900HK offered far more gaming platforms than the 12th-gen HX part. Today, it's the opposite. "With 13th-gen, it really turns things around… We want to make sure we're telling the most honest story with our best platform," he said.
Laptops using 13th-gen HX chips will support DDR5-5600 (four DIMMs, two DIMMs per channel), a slight upgrade from the DDR5-4800 supported by the 12th-gen HX platform. Other than that, the chip looks largely unchanged from the previous generation: There's still support for PCI Express 5, with 16 lanes (either x16 or 2×8) hanging off the CPU, and support for two (discrete) Thunderbolt 4 controllers. Neither the DMI interface to the PCH nor the PCH itself has changed, so the HX still supports Killer Wi-Fi 6E, 14 USB-2/10 USB-3 ports, and more. Bluetooth support now includes Bluetooth LE, however, which allows the laptop's wireless radio to remain in sleep mode for far longer, at up to half the power.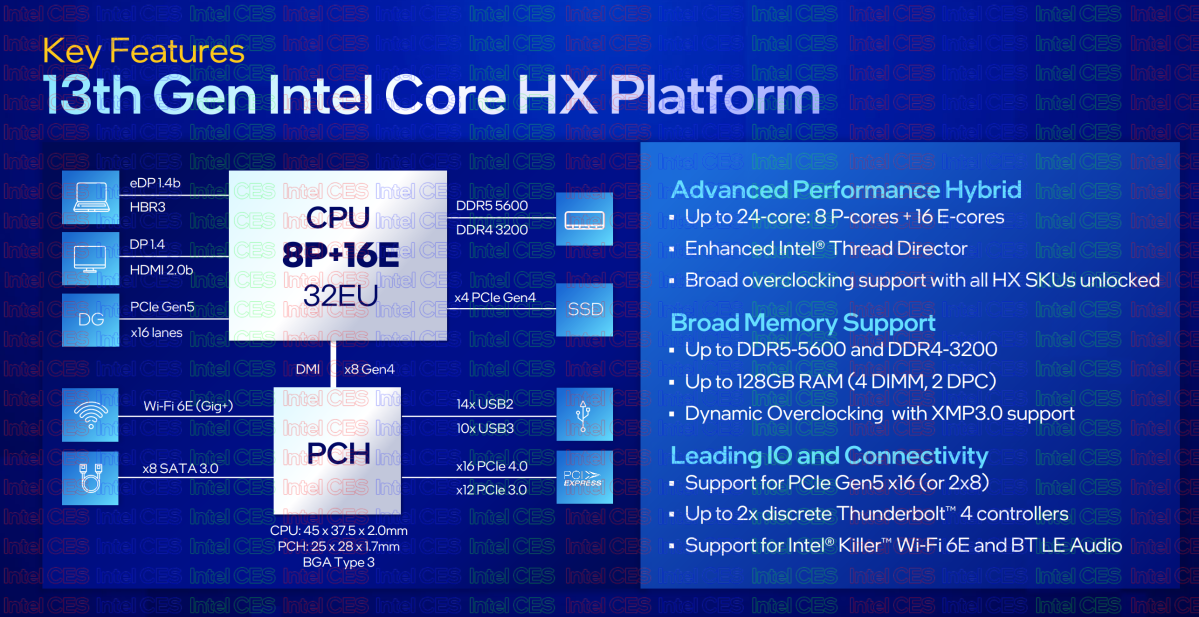 Intel
Intel is playing a little cagey with the HX performance, claiming that it's 11 percent faster on a per-thread basis and 49 percent faster across all threads—where the additional cores come into play.
Still, Intel is trying to thread the needle between content creation and gaming performance.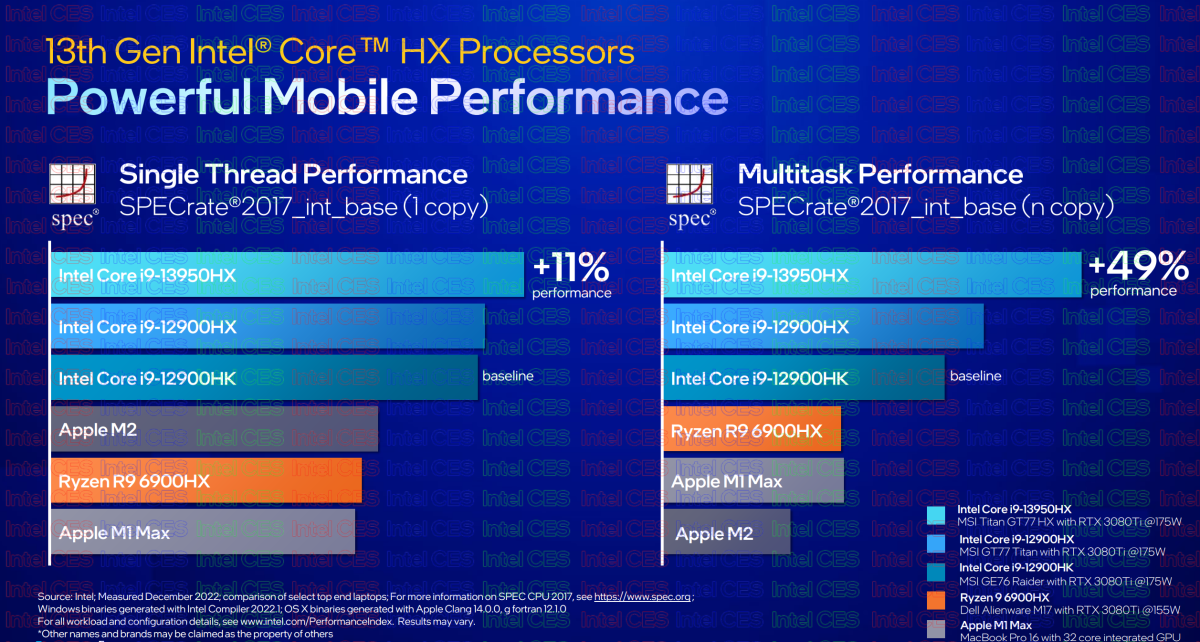 Intel
But Intel compared its latest chip to the Core i9-12900HK, not the Core i9-12900HX. Still, you can see from the benchmark slides below that content creation in Blender can increase a whopping 79 percent, with gaming performance a more modest 12 percent at most.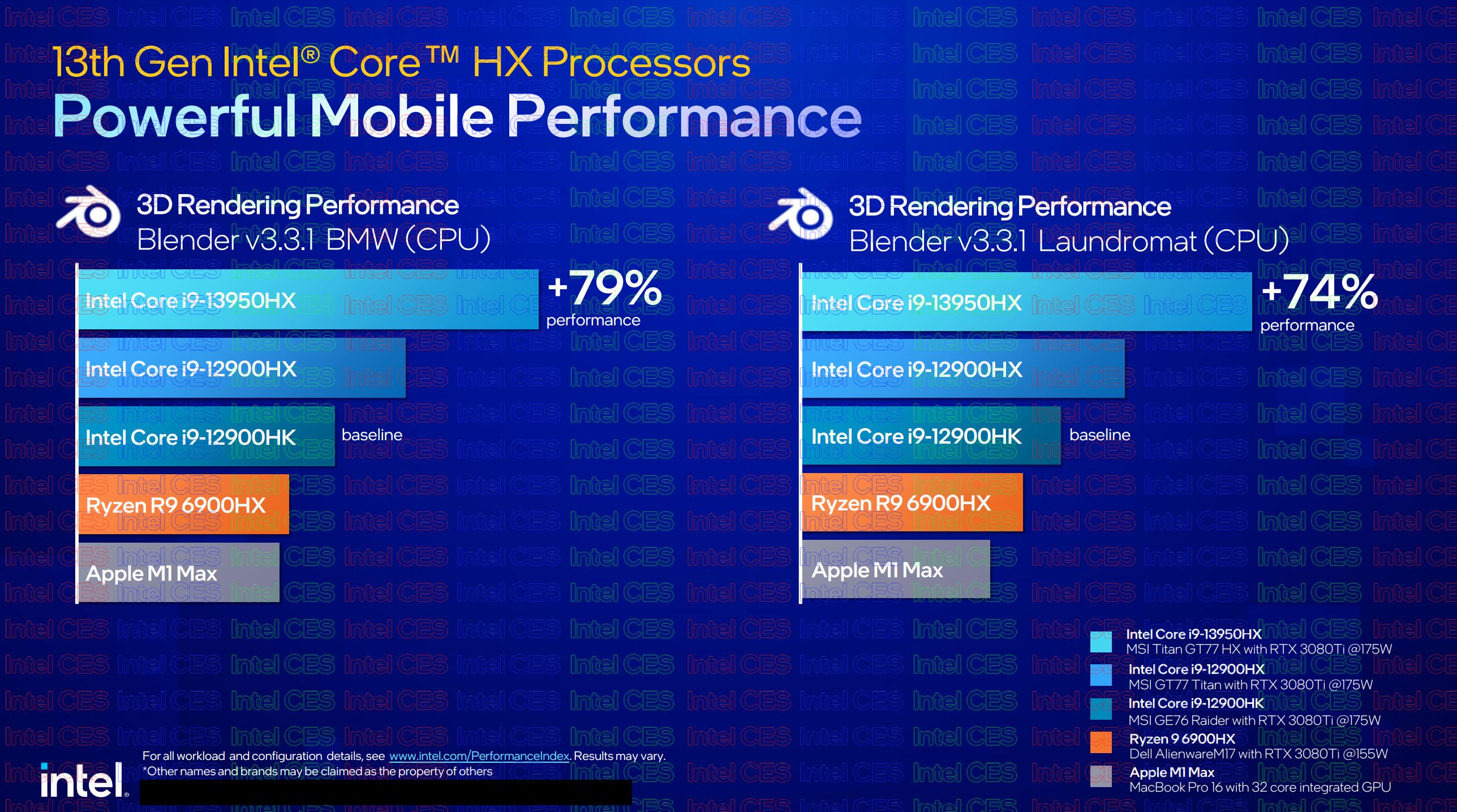 Meet Intel's 13th-gen mainstream Core processors
It's more likely, however, that you'll end up buying an Intel 13th-gen mobile Raptor Lake-H, -P, or -U processor. Our best gaming laptops, for example, typically feature Intel's H-series chips. But that's a change: With Raptor Lake, Intel attached the "best gaming processor" to the HX family, specifically the Core i9-12900HK. Intel didn't even bother to publish any gaming benchmarks to back up the Core i9-13900HK.
Two new, key features should interest you: "endurance gaming," and the addition of what's known as a Movidius VPU—AI for Intel laptops, which we'll dive deeper into in a second.
We've included the key numbers for the Intel mobile families in the slides below, beginning with the H- and P-series, which will be included in higher-performance laptops.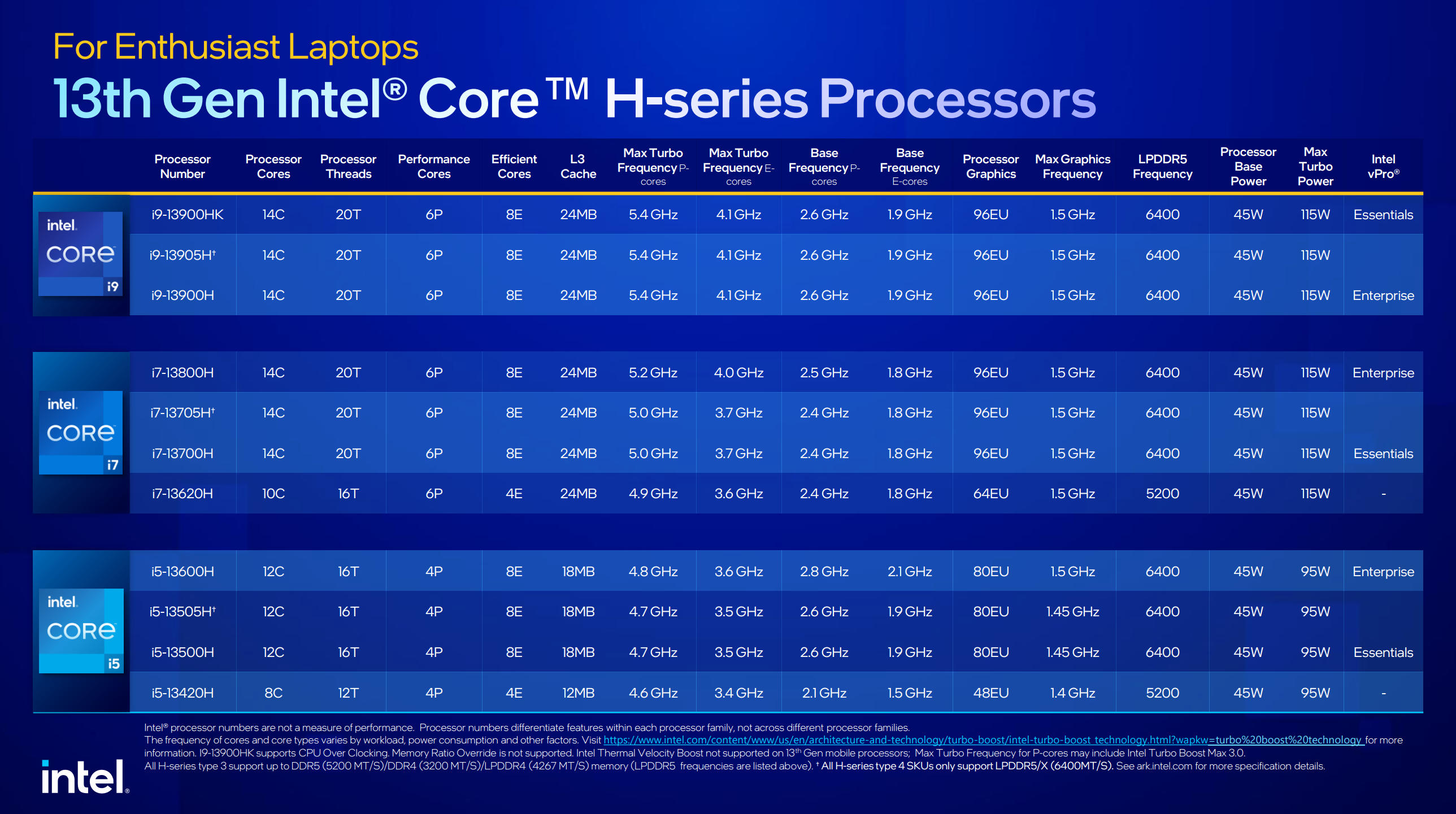 Here, the new Raptor Lake chips look a lot like the 12th-gen Alder Lake processors: There are only up to 14 cores (six performance, eight efficiency) but with the 96 EUs for graphics that accompanied the 12th-gen Cores, too.
If you end up buying a Windows tablet (like one of Microsoft's Surface Pro series) you'll likely be buying one of the 13th-gen U-series mobile processors, below. There's a fairly steep dropoff in terms of performance cores (two performance cores, at most) but the longer battery life engendered by the lower 15W thermal design power is what PC makers will be eyeing.
Intel
Otherwise, laptops using the 13th-gen H-, P-, and U-series chip however will see improvements that include support for either DDR5-5200/DDR4-3200 memory, as well as low-power DDR5x-4600 and LPDDR4x-4267 memory. Like the 12th-gen chips, Wi-Fi 6E is integrated. Bluetooth Low Energy (Bluetooth LE) has been added, as with the HX platform. Eight lanes of PCI Express 5 have been added, too, but only on the H-series gaming platforms.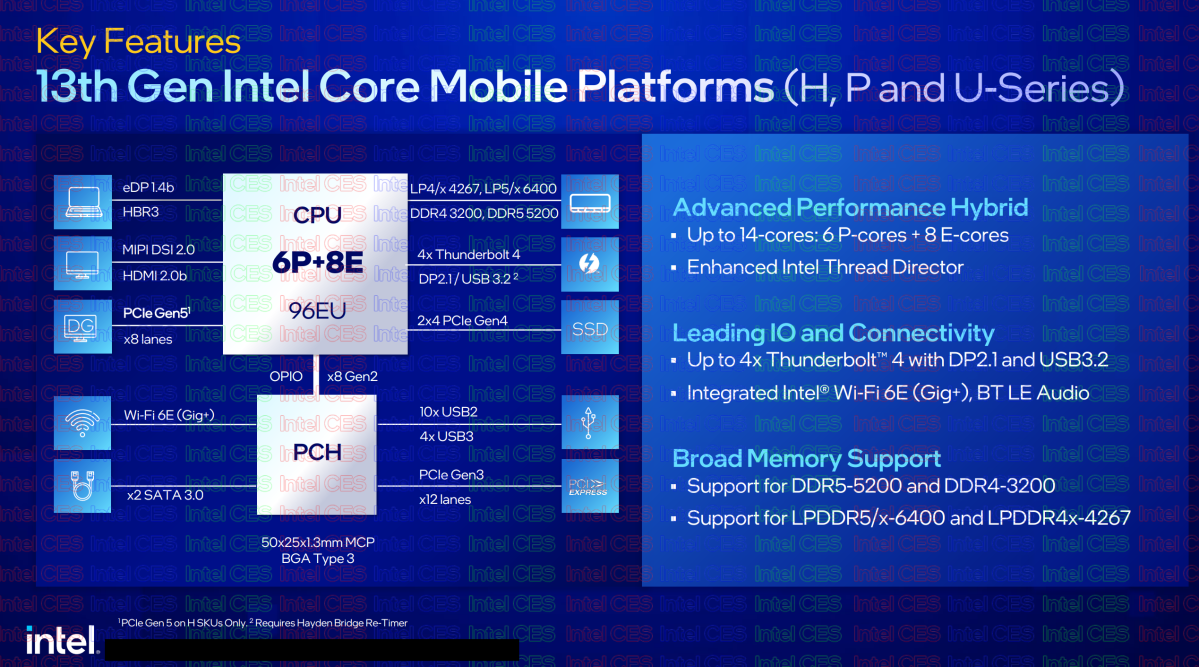 Intel
One area that has received a small but significant upgrade is the integrated Thunderbolt 4 controller, which now supports the redefined DisplayPort 2.1 spec as well as USB 3.2. The latter's significant, since that standard allows for USB-C ports to run at 20Gbps via PCI Express, rather than the conventional 10Gbps. That will allow for faster external SSDs to be connected to 13th-gen Raptor Lake laptops.
Intel isn't saying much about the Core i9-13900HK processors, claiming that they'll be about 10 percent faster and more responsive than the Core i9-12900H.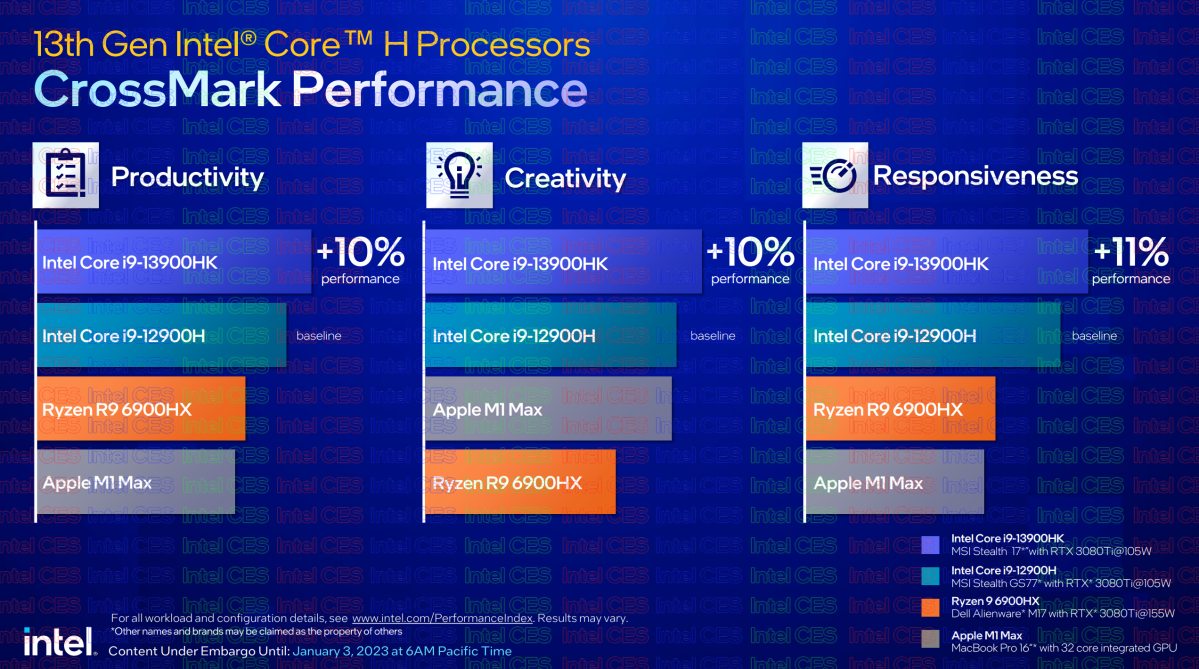 Intel
What is Intel's endurance gaming?
Gaming laptops have a problem: Gaming on the go can suck power like mad, which can catastrophically reduce battery life. But gaming laptops are typically optimized for high performance, with high-refresh-rate screens. Intel has struck a compromise: "endurance gaming," which can dial down the power that the laptop supplies to the processor's integrated graphics, allowing it to run for a longer period of time. Games like League of Legends, Rocket League, and Grand Theft Auto V, which normally run at about 90 minutes in performance mode, can run for 4.5 hours in "endurance gaming" mode, at 30 frames per second, executives said. The technology even prevents screen tearing, said Jacob Levine, a product engineer.
Endurance gaming will be available on pretty much every Intel mobile Raptor Lake platform save the HX series, which uses discrete graphics, Helms said. The feature can be turned on via the Arc control utility, he said.
The Movidius VPU is Intel's AI card for PCs
Intel has said before that the (14th-gen?) Meteor Lake chip will include integrated AI. "Select" 13th-gen laptops, however, will include a Movidius VPU discrete add-on card inside them, which will enable AI-powered features that had previously been reserved for Arm laptops.
After buying Movidius in 2016, Intel began adapting the technology in 2018 to power Amazon Alexa and visual processing units. Four years later, Movidius is a foundation of Intel's AI program. But it'll pave the way for future enhancement, too. For now, the discrete AI card will offload AI processing functions until Intel launches a dedicated AI chip inside of Meteor Lake.
Mark Hachman / IDG
Essentially, Movidius today will power Microsoft's Windows Studio Effects, a Windows 11 suite of technologies that debuted in the Windows 11 2022 Update and the Arm-powered Microsoft Surface Pro 9. Studio Effects include background-noise cancellation, a technology to recognize and focus the camera on your face, as well as an AI-powered illusion that will make it look like you're always looking at your webcam.
More Evo PCs en route
All of these improvements will show up on Intel Evo-branded laptops, the premium collaboration between Intel and engineers at third-party laptop makers. Over 15 manufacturers have enrolled in the program, with over 100 Evo designs to date, said Josh Newman, Intel's vice-president and general manager of product marketing.
What's new for Evo? An improved push into "intelligent collaboration," with more of a push into improved cameras, audio, and Wi-Fi capabilities. Intel will also include its Unison app on Evo laptops, which is its own spin on the Windows Your Phone / Phone Link software—but with connections to both Android and iPhones.
Alder Lake N / Intel N-series for low-cost PCs
Intel is also announcing a new processor for the low-cost PC and Chromebook market: two Core i3 N-series processors. The processors will use "four cores with Intel processor" and "8 cores with Intel Core i3 N-series processor," with Intel's Gracemont cores factoring in somewhere—it's not clear where. Intel casually refers to this chip as "Alder Lake-N."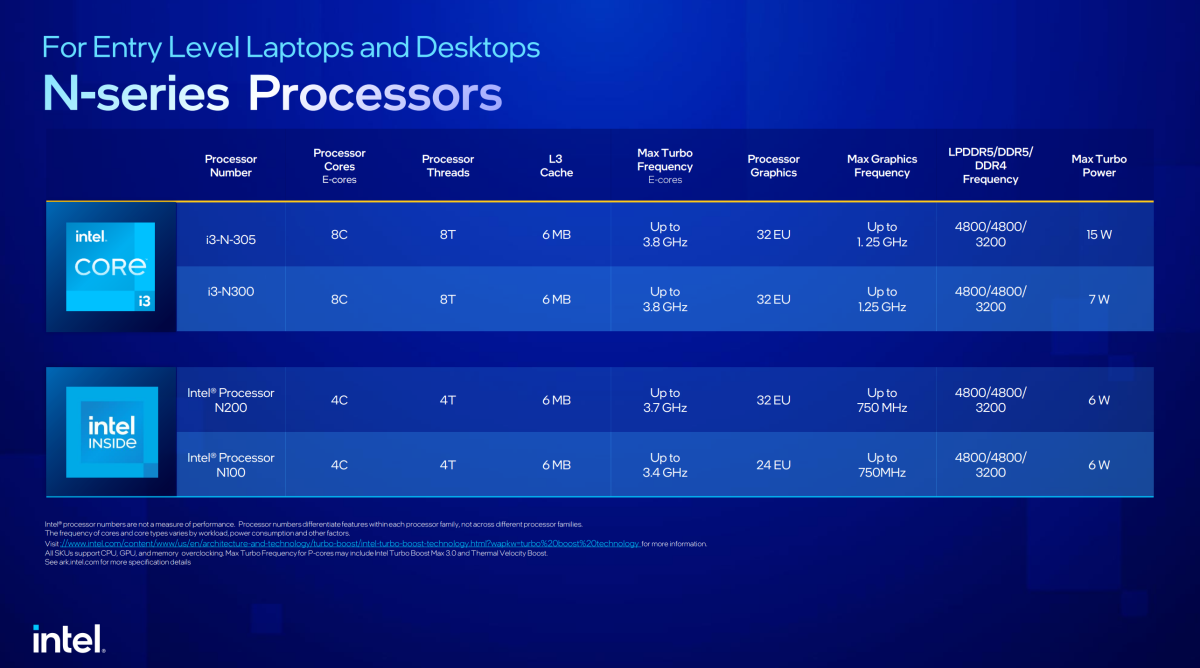 Intel
Intel's new N-series processors will be used in over 50 designs, Intel executives said, and include the Core i3-N305 and -N300. Note that these chips will be used for both desktop as well as laptops.
Some of the platform's capabilities include Wi-Fi 6E, DisplayPort 1.4, HDMI 2.0, and a slew USB2 and USB3 ports hanging off PCI Express Gen 3.
"The whole logic behind this architecture in this space is that people are shopping for PCs in these price bands: They don't need low cost, they need experiences," Newman said.