The 5 best TVs for gaming in 2023, according to experts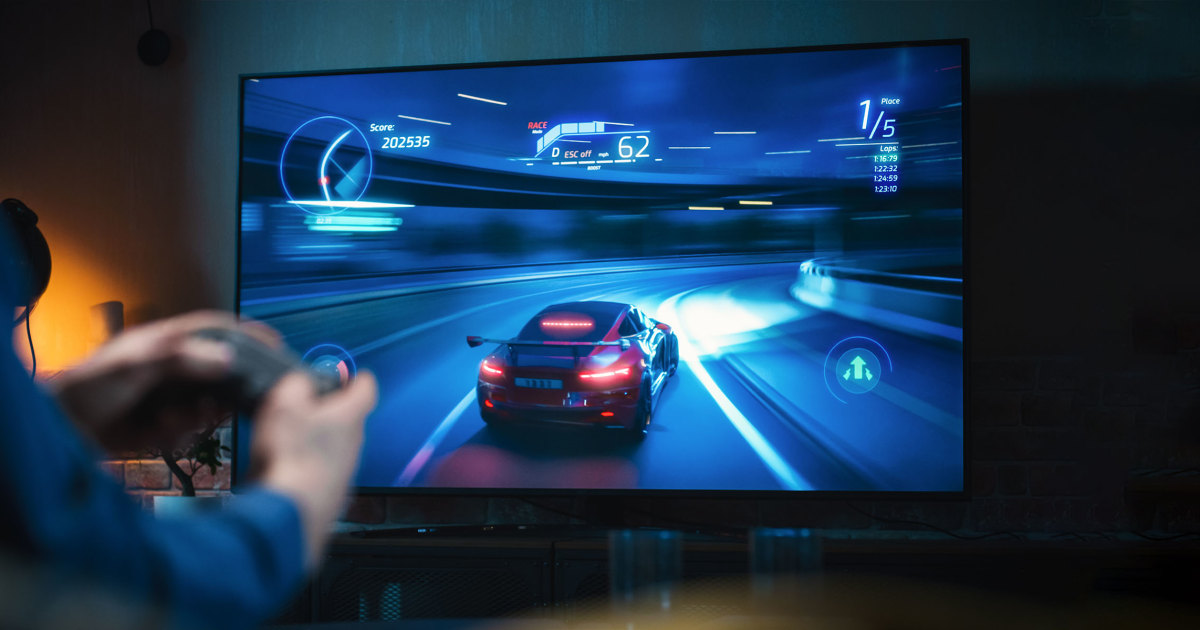 These days more gamers are playing "League of Legends" and "Call of Duty" on big-screen TVs rather than on dedicated gaming monitors. That's because TVs are generally larger, cheaper, and great for gaming in large spaces. But not all TVs are equipped to provide a compelling gaming experience, said Jim Willcox, senior electronics editor at Consumer Reports. Unless they are specifically designed for gaming, many TVs don't have adequate refresh rates (the number of times a TV can refresh its image) and latency, otherwise known as input lag (the amount of time that passes between your controller's command and the moment the image appears on-screen).
SKIP AHEAD 5 best TVs for gaming in 2023 | How to shop for a quality gaming TV
Mark Deppe, director of esports at University of California, Irvine, agreed that big flatscreens have not been up to par. "The students here play Smash Bros., and it's a game that's famous for the reaction time of its competitors. The game works at a certain speed, and the TV has to be at that exact speed. Otherwise, it's impossible to play at a high level," he said. TV technology is catching up though, he added. UC Irvine, for example, is currently purchasing some of the newest Vizio models for its UCI Esports Arena. "Vizio's newer TVs meet that need. They have the right refresh rate and zero latency, so the Nintendo Switch and the TV are in perfect sync," said Deppe.
To find out which TVs on the market today offer dedicated gamers the best play-by-play action, we asked three tech specialists, who are also avid gamers, to reveal their current favorites, as well as which key elements to look for when shopping for a quality gaming TV.
5 Best gaming TVs in 2023
Below is a roundup of the top five gaming TVs, in a variety of price points, recommended by the experts we consulted. All are 4K, work with every gaming console and have a 65-inch screen size, which is the ideal for living rooms, family rooms and larger bedrooms. In addition, each TV has excellent image quality, an input lag of about 17 milliseconds (ms) or less and at least two HDMI 2.1 ports for multiple console connectivity. For a more detailed overview of the key elements to look for when shopping for a quality gaming TV, see below.
Input lag: 1ms
Refresh rate: 120Hz
Variable refresh rate: Yes
HDMI 2.1 ports: 4
Game Mode: Yes
According to Avi Greengart, consumer technology analyst and president of Techsponential, the LG OLED C2 is "one of the best gaming TVs and one of the best TVs period." Willcox agreed. In 2022 LG OLED C2s won the Innovation Award in the gaming category at the tech trade show CES, and according to our tech experts, it does not disappoint. It has an alpha 9 Gen 5 AI Processor 4K that adapts to the content you're watching, automatically adjusting the TV's settings for improved picture and sound quality, says the brand. "It's an OLED, which means that each [of its 8 million pixels] is individually lit, providing tremendous contrast and exceptional black," said Greengart. The LG C2 also has an extremely low input lag of just 1ms, says the brand.
Input lag: 10.5ms
Refresh rate: 120 Hz
Variable refresh rate: Yes
HDMI 2.1 ports: 4
Game Mode: Yes
Willcox recommended this smart TV, which is designed to reduce glare and includes an Ultra Viewing Angle so you get optimal picture quality from anywhere in the room, saysSamsung. Its precision Mini LEDs also create a wide range of color and contrast. The Samsung QN90 includes Game Mode, to decrease input lag even further.
Input lag: 15ms
Refresh rate: 120Hz
Variable refresh rate: Yes
HDMI ports: 4 total (2 HDMI 2.1 ports)
Game Mode: Yes
Willcox recommended this Hisense model for its affordability and mini LED backlighting, which provides a brighter picture with more contrast control than typical LED backlit televisions, says the brand. It includes the Game Mode Pro package, which offers gaming technology that adjusts settings for uninterrupted play, 2 HDMI 2.1 inputs and an automatic low latency mode (ALLM). It also offers its FreesSync Premium Pro to minimize input lag, screen jitter and frame tearing, says Hisense.
Input lag: 17.7ms
Refresh rate: 60Hz
Variable refresh rate: Yes
HDMI 2.1 ports: 4
Game mode: Yes
Like the Hisense, the TCL has mini LED backlighting and is a more affordable option than some of the other TVs on this list. "The TCL is great because even though it's not an OLED, it has mini LED backlights, so it has very bright brights and very dark darks," said Greengart. "It also has VRR (variable refresh rate). You're getting an awful lot of television for your dollar." The TCL 6 Series gaming package comes with the AMD FreeSync Premium Pro, Variable Refresh Rate (VRR) and an auto Game Mode.
Input lag: 5.8ms
Refresh rate: 120Hz
Variable refresh rate: Yes
HDMI 2.1 ports: 4
Game mode: Yes
The M-Series 2023 QLED smart TV is a favorite of Deppe's for gaming because it has extremely low latency and excellent refresh rate, he said. Its Quantum Color offers over a billion colors, and it was engineered with input from gamers, says the brand. It comes with Game Mode, FreeSync Premium VRR and HDR technology.
How to shop for a quality gaming TV
There are a wide variety of TVs that say they are equipped for gaming, but if the technology can't keep up with your controller or your TV picture takes way too long to update, this could negatively impact the outcome of your game, said Willcox. For dedicated gamers, that's just not an option. Here are five key things the experts say you should consider when shopping for a quality gaming TV.
Picture quality. In terms of picture quality, said Willcox, most bigger TVs—say, 50 inches and above—are now 4K models, with four times the number of pixels as regular high-definition sets, so they are capable of displaying much greater detail. "The good news is, you don't have to pay extra to get one," he said. "Most now support high-dynamic-range (HDR) content, which can produce brighter, more vibrant images." Willcox added, however, that not all TVs do a great job, though, so it's necessary to choose a model that can provide a compelling HDR experience.
Latency. Also referred to as input lag, latency is the amount of time it takes for the on-screen action to respond to the actions you take using the game console or PC controller, and it is measured in milliseconds. "Dedicated gamers know that even a half-second delay can determine who wins or loses, especially games with fast action," said Willcox. He added that many TVs now have a Game Mode, sometimes called Auto Low-Latency Mode (ALLM), which automatically puts the TV into a setting that reduces latency. "For top-notch performance, you should look for a TV with an input lag under 20ms with the game mode activated," said Willcox.
Refresh rate. Willcox said another thing to consider is the TV's refresh rate, measured in Hz, which refers to how many times per second the TV can refresh its image. "Although they're often used interchangeably, the refresh rate is different from frame rate, which is the number of video frames the TV can display every second," said Willcox. "It's important for both to be in sync in order to avoid visual artifacts such as screen tearing, which happens when the TV shows part of an old frame along with the new one."
Variable refresh rate (VRR). More TVs now have what's called Variable Refresh Rate (VRR), which means the TV can automatically match the frame rate from your gaming console or your computer so they're in sync, which can eliminate screen tearing. "You may see TVs advertising that they're compatible with G-Sync from Nvidia, or FreeSync from AMD, which are essentially two 'flavors' of VRR technology," said Willcox.
Inputs. Willcox recommended making sure the TV has at least one HDMI 2.1 input, the latest HDMI standard. "It provides support for higher frame rates, such as 4K gaming at 120Hz, and VRR. Both the PlayStation 5 or Xbox Series X game consoles, as well as PCs with higher-end graphics cards, come with HDMI 2.1 connections, so having HDMI 2.1 on your TV will help you get the most out of these gaming systems," he said.
Meet our experts
At Select, we work with experts who have specialized knowledge and authority based on relevant training and/or experience. We also take steps to ensure that all expert advice and recommendations are made independently and with no undisclosed financial conflicts of interest.
Jim Willcox is the senior electronics editor at Consumer Reports. He has spent more than two decades covering consumer electronics technology, products and services.
Mark Deppe is the director of esports at the University of California, Irvine. He is a self-proclaimed Chief Gaming Officer.
Avi Greengart is president and lead analyst at Techsponential, a tech market research and advisory service.
Catch up on Select's in-depth coverage of personal finance, tech and tools, wellness and more, and follow us on Facebook, Instagram and Twitter to stay up to date.