A Florida TV station offered viewers raw, emotional coverage of the shooting of its own journalists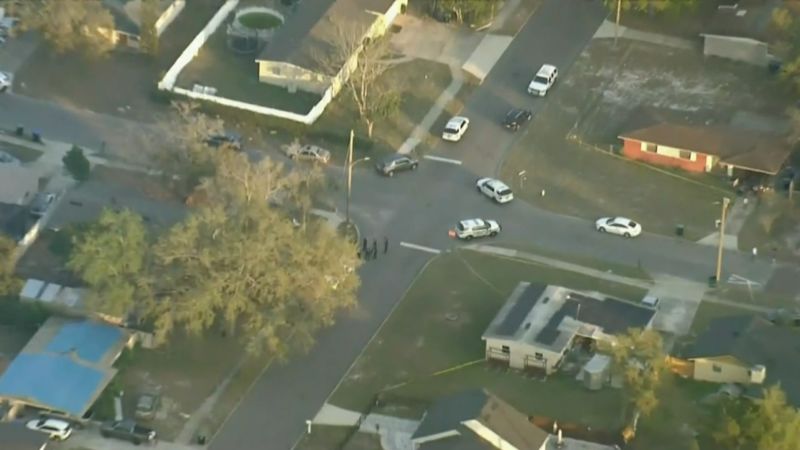 New York
CNN
 — 

Spectrum News 13 will never be the same.
The Orlando television station on Wednesday became the latest local news organization faced with the impossibly difficult task of having to report on a deadly attack targeting its own colleagues.
In 2015, it was WDBJ-TV. In 2018, it was the Capital Gazette. And now, in February 2023, it's Spectrum News 13, a Charter Communications-owned cable news outlet in Florida.
On Wednesday afternoon, the station deployed a crew to report from the scene of a shooting that had occurred earlier in the day when, suddenly, bullets started flying once again. A 9-year-old girl was killed. And bullets struck two of the news organization's journalists, fatally wounding one and critically wounding another.
For now, Spectrum News 13 said it is withholding the names of the two journalists who were shot. But its anchors and reporters rallied throughout the evening to provide raw, moving, and at times gut-wrenching coverage of the horrific act of violence against their colleagues.
"This is extremely devastating for all of us," Spectrum News 13 reporter Celeste Springer said on the air. "Please, please say a prayer tonight for our co-worker who is in critical condition."
In a statement, Charter Communications said it was "deeply saddened by the loss of our colleague and the other lives senselessly taken today."
"Our thoughts are with our employee's family, friends and co-workers during this very difficult time," Charter said. "We remain hopeful that our other colleague who was injured makes a full recovery. This is a terrible tragedy for the Orlando community."
A version of this article first appeared in the "Reliable Sources" newsletter. Sign up for the daily digest chronicling the evolving media landscape here.
Working in local television news is unpredictable. One day a reporter might find themselves covering extreme weather, such as a hurricane. The next day they might be assigned to cover a political rally, in which they're denounced as "fake news." And, on yet another day, they might be deployed to the scene of a crime, as was the case for the Spectrum News 13 journalists on Wednesday.
Which is to say that the job carries some risk, a fact that is not lost on those who do it. As WESH-TV reporter Luana Munoz said as she broke down covering the story from the scene on Wednesday evening, "This is every reporter's absolutely worst nightmare."
And yet, scores of reporters happily do it, day in and day out, not for fame or fortune — the pay is far too low and the industry's economics are far too unstable — but because they believe in the mission: informing their neighbors. Bettering their communities by providing the public with important information.
That is what makes Wednesday's senseless violence all the more tragic. The Spectrum News 13 journalists were attacked while doing a job aimed at serving the public.
The violence comes after a particularly dangerous year for members of the press worldwide, with a staggering 67 journalists and others in the media profession killed in 2022, according to the Committee to Protect Journalists. That figure is more than double what was reported in 2021, when 28 journalists were killed.
"I don't have the words," Rebecca Turco, one of Spectrum News 13's journalists, tweeted Wednesday evening. "We still have so many questions tonight but even if we get answers, they won't make it make sense."
"Praying our other team member will be okay," Turco added. "Please keep our crew's families in your thoughts."